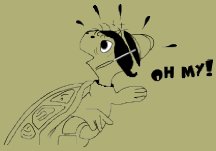 The Hotel Misiana in Tarifa was very nice and I enjoyed my stay there. I slept on the most comfortable bed of my trip so far. Luckily I have ear plugs because the church bells rang loudly and often. The owners loved my tricycle and I let them take Myrtle for a spin before I headed for the ferry. Boy o boy was I nervous. I hadn't been this nervous about traveling in a very long time and I wasn't sure why I was so nervous. Everything has gone very smoothly up to this point on the tour. I was also very excited for my first time in Africa and an Arabic country.
I purchased my ticket well ahead of time and arrived at the ferry terminal early enough to be the first in line. Yes, Myrtle was in the line for the vehicles. I was kind of surprised more vehicles weren't around because the ferry was leaving in less than half an hour. When the barrier was lifted the line of cars was short. Mostly, the ferry was carrying passengers who walked on but I don't think there were even 75 people. It was a beautiful afternoon and I crossed as the sun was setting and the boat passed by the Rock of Gibraltar.
I lost an hour and arrived in Tangier at the same time I left Tarifa. There were thousands of migrating birds flying in impressive murmurations above the city. It was really something to see with the sunset colors too.
Passport control was done on the boat and I got my stamp before we docked in Tangier. Even though there weren't many people on the boat, it seemed almost everyone wished me luck and gave me excited acknowledgement as I came off the boat into Tangier. Welcome to Morocco and Africa!
My warmshowers host was waiting for me at the gate. I have known Youssef for a couple of years on Facebook. He also rides a tricycle and it was exciting to meet him in his home country. What a great introduction to Morocco and Tangier from someone who lives here. He lives about 20 km in the country and we loaded Myrtle into his van. Suddenly, my nervousness turned to happiness. I was so excited to be here I had tears in my eyes and I gave Youssef a big hug. What an amazing moment to realize how far I have traveled on my tricycle.
We arrived at Youssef's home within an hour after he gave me a short tour of the coast. His wife and 3 children were waiting for me. Youssef has a very nice family and his kids welcomed me with kisses. He is in the process of building his home but it was still quite comfortable. His wife Najat is a terrific cook and I enjoyed my first Moroccan meals eating from the same plate with the family in the middle of the table.
My timing with the weather wasn't so good. There was a terrible storm for the next 2 days with lightning, thunder and unrelenting torrential rains. It was some of the worst rains Tangier has had in many years. I took advantage of the time and being with someone who knows their way around. Youssef wanted me to have internet access while I was traveling and we tried to get a wifi router for my tablet but I ended up getting a new Samsung smart phone. The data sim card was very inexpensive. I paid less than $2 for 4 GB and can refill anywhere on my travels in Morocco and the phone can be used anywhere in the world.
I always feel a bit stressed to stay with hosts for more the 2 nights. It seems like a lot to ask but there really wasn't any way I could start riding. Youssef said I could stay as long as I wanted. He took me all over including a visit to meet his parents who have a very elegant apartment in the city. And, of course, Youssef wanted to take me on a cycling tour of Tangier. After 2 solid days of rain, Youssef loaded up our trikes to take into the Tanger. What fun we had. He thinks it was the first time tricycles had been ridden in the medina and the kasbah. We had so much attention and everyone seemed to get a real kick out it. We went all over the city and stumbled on a wedding ceremony just as the bride was being put on a horse. There was a band and dancers in front and back of the bride and we followed along for while. This celebration was super cool to witness. Even though it was night time, I took a lot of video and hope some will be worth showing. Tangier has a reputation for lots of aggresive touts trying to get tourists to buy in the medina. Since I was with Youssef I didn't experience any of it. What a luxury to travel with a local. Thanks Youssef for opening your home and giving me such a fantastic introduction to Tangier and Morocco.
After a wonderful 4 night stay in Tangier, the weather is letting me move on. Tomorrow, I will start my trike tour of Morocco.