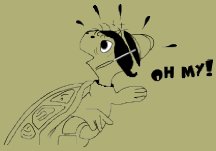 I really enjoyed my week in Sevilla. What a fabulous city. I saw lots of sites, ate great food and met some fun people. The time went so fast but, now, it is time to push on. The people at the Hostal Muralla were really sweet and at 25e a night it was very reasonable. Even though it's inside the old city, the hostal is just far away enough from all the sites that I had to do a lot of walking. There are so many hotels and hostals to choose from too. I went in to a few just to check prices. At this time of year you can stay in a 5 star for 80e. And it's kind of amazing how different just one star can make. I looked at some 2 star hotels that were 45e a night and they looked very modern and much more upscale than the hostal I stayed in. Of course, 25e is almost half the price too. It's a funny thing but once I get settled in a place I never change from there even if I'll be in a city for a week.
In the morning, the hostal people helped me get Myrtle out to the curb. They all stood around wanting to see me actually ride. It was a beautiful morning. There had been rain over night and the roads were wet but the temperature was already around 60 degrees. The forecast was calling for thunderstorms later in the afternoon but I expected to be at my destination by then.
I took the outer circle road which has a bike path to a road that goes along the river south and out of the town. Google maps had plotted a course for me that looked really nice along a river. At first, I went through an industrial area and there were a lot of big trucks. The road had a good shoulder so I wasn't worried about space but it was noisy for awhile. Then the road got very narrow. Too narrow for 2 trucks to pass without one going into the shoulder. At this point, there wasn't much traffic and, luckily, I was never effected.
Then the road turned to dirt. It was as if the county ran out of the money. I decided to try the dirt but road ended at a military base and I had to turn around. I decided to take another route Google maps had suggested but had a hard figuring out how to get to it. I toook an exit from a roundabout and ended up on the Auto via. Bikes aren't allowed but I only took it to the next exit. From here, I passed more industrial warehouses. While I was on a frontage road for a few blocks, along the bigger highway, a young touring cyclist with panniers passed me. He was only a few feet from me and didn't even acknowledge me. I guess he was so lost in his own world he didn't see me. I would have thought he must have seen my flag for awhile until he passed but maybe not.
I took a break for coffee and got a stamp in my credencial for the Camino at a little bar at Corio del Rio. There were a lot of guys standing around outside and they got a kick out of Myrtle. From here, I expected the day to go easily. I had heard from a few people that the road to the coast is very flat and the weather was gorgeous. I continued to follow Googlemaps and the road went through olive orchards and then rice fields. There were lots of birds and a I passed horses in a field of yellow clover flowering in the lush green grass. It was idyllic. The road surface was very rough like it had been paved a very long time ago. The surface got worse and worse until, finally, it was dirt. No problem. I've taken plenty of dirt roads. As I was riding the road surface started getting muddier. There weren't any potholes and the road wasn't rough. How does a road get muddier on a dry, clear day? Pretty soon, I was on a totally flat road going 3 mph. At this rate I wouldn't get to my destination until late afternoon. Hhhhmmm.... I was thinking it probably wouldn't last and I might even get some real pavement soon.
Well, the road became muddier and muddier. I took some video when I was going slow. It never occurred to me that the conditions might actually get worse. But they did. 10 minutes after I took that video the mud got so thick I couldn't ride anymore. The fenders were gushing out mud. I tried to push the trike and it wouldn't budge. I looked for a stick to get some of the mud out of the fenders but there wasn't anything around. Even my shoes were getting a thick layer of mud under them. I tried to use my trekking pole to get some of the mud off but there was just too much. Here I was on a deserted farm road at least 5 miles from anywhere and I didn't know what to do.
Just when I was starting to worry about my situation, 2 guys in a SUV drove up. I hadn't seen anyone for probably an hour. They were so nice. Antonio and Luis saw my predicament and thought I was totally crazy. An older American woman, traveling alone on a tricycle, stuck in the mud in the middle of nowhere Spain. Oh did they have a good laugh! They took out their phones, snapped a bunch of pics and then called a guy with a small van to help. I took some video too. They had enough room in the SUV but they didn't wanted to deal with all the mud. Somehow, it was cool with Salvatore. Salvatore got there so quickly, I had the feeling he might be the older guy's employee. All these guys had a great attitude and a good 'ol time talking about how crazy the situation was. Sometimes I forget what an oddity I must look like.
Salvatore was such a nice guy. He didn't speak any English but, some how, with my few Spanish words, he understood I wanted to go to a gas station where I could hose off the trike. Even better, he took me to a self serve car wash. Perfect. The young guy there loved the trike and totally cleaned it for me. It took a long time with a power washer to get all the mud off especially from under the fenders. He even cleaned my shoes. I gave him a good tip for doing such a thorough job. I tried to give Salvatore money too but he wouldn't take it. Not only that, Salvatore stayed at the car wash until he knew everything was ok. He even helped load up Myrtle's panniers before he left. So sweet!! These guys are the big heroes of my trip, for sure. I don't know what I would have done if they hadn't shown up. I gave them all my card and hope they can bring up this post to know how much I appreciate thier help.
By this time it was after 3 pm. Once Myrtle was cleaned and loaded up, I pedaled off to look for a hotel. I found the Manolo Mayo in the city center, a very elegant 2 star for 40e. I also had a wonderful meal in the restaurant.
After everything that happened today, I think I'm going to sleep very well tonight.