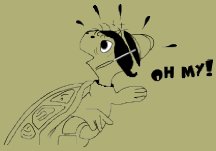 This was the first albergue I stayed with a room full of people and there was more than 1 full room. I slept surprising well using ear plugs and a face mask. This albergue, the only one open at this time of year in Estella, is run by a church. There are 3 rooms with 12 bunks each. Myrtle was kept in a locked room off the patio. The building is very old with a lot of character. It has a large kitchen with a long picnic style table for everyone to eat at.
I woke up and starting packing up my things. This albergue gave out a mattress and pillow cover made from a thin gauze type material. They also offered blankets. I used my sleeping liner with the blanket which was warm enough and made packing up a bit quicker without having to stuff my sleeping bag. As I was putting my gear away I started to hear singing in the room. Rap singing, in French. A young man in his 20's had headphones on and was rapping loudly with the tunes. I walked over and gave him a look to say 'what the hell?'. He smiled and said, in English, singing rap music was an important part of his morning routine. He said it much louder than needed because he had his earbuds in. I said it was totally uncool. We were the only ones in the room and I went back to packing. I carried my stuff downstairs and realized that Myrtle was in a locked room and no one was around to unlock it. Again, not cool.
The young French man started yelling down to his sister and father who were in the kitchen. And they yelled back and forth as if no one else was in the albergue. I thought - who are these people? Most walkers had started out very early and there were only a few of us left but still - wow. Someone pointed me to an unlocked door off the garden patio and I was able to get Myrtle out.
I started riding and it was only a few kms to the first stop. The Fuente de Vino of the Monasterio La Real de Santa Maria. Bodegas Irache winery started offering free wine in 1991 to the pilgrims on the camino. There are 2 spigots in the fountain. One for water and one for wine. The fountain also has a webcam to make sure people don't abuse it. I met up with some pilgrims and we took pictures together. Since it wasn't even 9 am I only had a couple sips but the wine was good. This is a wonderful tradition and a stop everyone looks forward to. Just as I was leaving the French family walked up. They were, again, so loud you could hear them far down the path. I made a mental note to keep my mileage up so I wouldn't have to deal with them again.
I made many stops throughout the day but only saw a few pilgrims. It rained off and on. Logrono is a good size town and I rode in on a bike path that merged with the Camino. Here I met a young Spanish couple from Mallorca. They helped me find the albergues. The first one we went to was full! The second one had an early lights-out time. They wanted to see a movie in the evening and so we went to a private albergue that was just a few months old. This one was also very busy. I was in a room with atleast 20 people and there were many rooms. I can hardly believe how many people are walking the camino at this time of year. The albergue offered an inexpensive meal and I think it cost me 16e for a bed and dinner with wine.
I woke up to a lot of commotion as everyone was packing up their bags. A few people commented that I had slept through a lot of noise. Amazing considering what a light sleeper I am! The ear plugs and face mask are working. After breakfast, the reception guys helped me bring Myrtle outside from the patio where she had been stored over night. I let them take her for a spin while I brought out my panniers. They really had fun.
Every day seems like it is getting colder and colder. Today, luckily, there wasn't much wind. I've really discovered on this tour that I have a terrible sense of direction. I have a Garmin GPS and a tablet with gps and still have to backtrack often. I can't really say I'm lost because, in the end, it doesn't matter where I cycle everyday. As long as there is a safe place to stay I'll be ok. But my plan was to ride the Camino de Santiago. Anytime there was a choice of left or right I took the direction away from the Camino. When given 2 choices the odds of getting it wrong should be 50-50. My odds were closer to 80-20. I did a lot of backtracking today and the route was hilly too. I stopped at all the small towns for coffee and to warm up. I met some pilgrims in Navarette and Ventosa. The roads went through Rioja wine country and it was stunningly beautiful with the vines changing color. I ended the day in Najera which was just as far as many of the pilgrims I had left this morning were walking. We all stayed in the only open Albergue. This one is pay by donation. There is one room with 90 beds! I think 80 of them were taken. The woman's bathroom had 2 stalls and the shower was wonderfully hot. I got there at an earlier hour and picked a bunk that had an outlet close by. With so many people in one room I wondered if any of us would get any sleep.