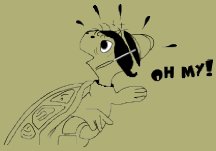 I ended up staying an extra day in Salamanca. There is plenty to see in this ancient city so I was happy to do more exploring. 3ike Recumbents in Madrid was sending me a package with replacement clips for my Ortlieb panniers. They arrived at the Plaza Mayor Hostal with a slightly different design from the ones I'm using. The pull straps are a bit wider, longer and adjustable. I can't think of a good reason for adjustable pull straps but, I'm sure, there must be one. These new clips should work just fine. I haven't decided if I should replace them now or wait until the ones I'm using actually fail.

Another task I wanted to take care of while in Salamanca was to find the route of the Camino Via de la Plata and get a Credencial so I can stay at the Albergues along the way. There' s a nice tourist office on the Plaza Mayor which sent me to an Albergue a few blocks away. I spoke to a nice German man at this lovely albergue next to a very nice garden. He didn't have any Credencials and sent me to the Iglesia de Santo Tomas de Canturiense who sent me to the Colegio Calasanz de Salamanca where I got my Credencial for 1.50e and my first sello or stamp of the Camino for Salamanca. Now I was ready to start the next leg of my journey.

In the morning, the front desk man cheerfully helped me bring Myrtle down the steep set of stairs and had someone else carry my bags so we didn't leave the trike unattended. It's always nice to get extra attention even if I really wasn't concerned for the security of the trike.
I got started out of Salamanca under grey skies but the temperature was warmer than I expected. Getting out of the city is easy and I quickly found the CL512 that follows the Camino Via de la Plata. Once I crossed the Rio Tormes, there is a bike path that I followed into Aldeatejada. Not much farther the road split and I watched a cyclist out for a day ride turn off. I, too, should have turned here but that didn't occur to me. I knew I needed to turn left but I had it in my mind that the turn was much further into the ride. I was wondering why I hadn't seen any signs for the Camino after a couple of hours and figured it was because I was going south I was missing them. Most pilgrims take the various Caminos to Santiago and I was going the other way. The road I took into Vecinos was very nice with a wide shoulder and not much traffic. I stopped for lunch at a bar where the owner explained that I wasn't on the Camino and set me straight. Lucky for me, there is a road directly out of Vecinos that would get me to the road I want and back on the Camino. He and a few patrons had a good laugh about this.
After a nice meal and new directions I took off on a lovely farm road. It was in good shape and there was even less traffic. About every half hour a car would pass with great enthusiasm, honking horns and big thumbs up. The picturesque rocky landscape was dotted with oak trees and lush green grass. Much of the time the road was lined with old grey stone walls. There were some pigs, cows and horses that would look my way and kept me entertained. What I didn't know is I had a substantial hill to climb to get to the road I wanted to be on. I kept going up and up and ended up climbing 1000 ft where I was riding amongst wind turbines. There wasn't much wind but the turbines were really moving. I had a nice downhill and then a few more small pueblos to ride through before I was back on the Camino.
Just a few miles from my destination the rain began to fall. It was more of a drizzle and I kept expecting Fuenterroble de Salvatierra to be right around the next corner. I probably should have stopped to put on my rain gear but I never did. As I entered the small pueblo of Fuenterroble de Salvatierra, I really had no idea where to look for the Albergue. Luckily, 3 women were out speed walking and they wasted no time pointing me in the right direction. Once you see the Albergue, it is totally obvious. There is a big drawing of a peregrino walking in a friars robe with many tiles in bright colors with the signs of the clam shell and Camino.
The door to the Albergue was open but it took some time for anyone to answer my calls of 'hola, hola'. A couple of pilgrims finally appeared and said the volunteer cook was busy and they showed me into a very warm dining room with a roaring fire going. These pilgrims, French and German, had met on the road and we would all be sharing a dorm for the night. The cook came out in a burst of energy and showed me around, parked Myrtle in the back room and helped get my bags upstairs. Interestingly, the cook volunteers here for 3 months every year and the rest of the time he spends in South America as a percussionist with the Pat Matheny band. I wanted to talk to him more about his experiences but he didn't speak English and my Spanish isn't up to the task. He made us a delicious vegetable stew and we all brought something to share. I brought red wine and chocolate. The cost to stay is by donation and includes a night's accommodation as well as dinner and breakfast. I think I spent a total of 15e.