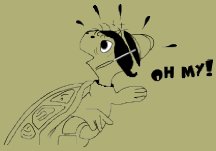 The rains fell steadily all night at the Albergue. There wasn't any heat or hot water so I took a very quick shower. There was a small leak from the roof into a bucket sitting on the bunk above me but ear plugs blocked it all out. My sleeping bag is warm and I slept well.
In the morning, a couple of pilgrims had already left when I came down for breakfast. My dorm mates were pulling on the their packs for what everyone dreaded was going to be a very wet day. As a rule, the Albergues only allow one night stays unless the pilgrims are injured or sick and it would be foolish to kick them out. As nice as everyone was, I looked forward to pushing on. The roads were very wet from the overnight rain but it had stopped for the time being. I said thanks and goodbye and had a nice send off party of people from the Albergue wanting to see how I ride the tricycle.
Within 10 minutes the rains started again and continued for most of the day. Everyone at the Albergue suggested I take the National road instead of the roads along the Camino so I made my way through Guijelo (video) to find the N630. Guijelo is very famous for jamon Iberico. Jamon Iberico is a national treasure of Spain. There are many varieties and qualities. I learned that the best jamon comes from the black pig. The quality and price of the jamon is determined by how many acorns the farmer feeds his pigs. This area has lots of oak trees and so it also has the best jamon.
Even though I had coffee with breakfast, it was so dreary out I was ready to stop within the next hour. My anticipated mileage for the day was going to be relatively light so I took off the National road at Fuente de Bejar to see if I could find a bar open. All bars in Spain have espresso machines. There are 2 bars in Fuente de Bejar and neither opens until 9:30 so I headed back to the highway. Except I didn't. Where I should have turned left I turned right and ended up in another town 4 miles away going to nowhere. I asked about getting to the National road from here, Ladrada, but was told it would be much easier to go back the way I came. Getting to the national road from Ladrada includes climbing over a mountain. Hhhhmmmm.....I really don't like back tracking but sometimes there is nothing else to do. And, maybe the bars in Fuente de Bejar would be open when I got there. It was after 10 when I got back and I was in no mood for coffee. Boy was there a lot of climbing in this little detour. All I wanted was a cup of coffee but instead I got miles.
Not much farther, I got to Nava de Bejar and found a bar open. The woman owner asked if I wanted a bocadillo jamon as well. Ok, it is pretty close to lunch time so why not? This bocadillo was a baguette atleast a foot long with thin slices of jamon iberico. I couldn't manage to finish half taking the rest to go.
There was a lot of climbing today and the way was slow. My little non-coffee detour made for a longer day too. Up and up and up. And then I had a glorious downhill into Banos de Montemayor. (video) This is a sweet looking town built into a mountain that is well known for its restorative, medicinal spa waters. I saw a sign for an Albergue but couldn't find the way there. An old man was walking with a stick and a bucket offered to show me.
Unfortunately, the Albergue was closed and so I continued on to the center of town booking into the Hostal Montemayor. The owner was very nice and very strong. He picked up Myrtle putting her into a storage room like she isn't something awkward to carry. Impressive! Everywhere I looked, there were old people. Really old people. Like nursing home old people. The hostal was only 15e a night and centrally located. My room was comfortable, had a good bathroom with very hot water and even strong wifi. But, it smelled like old people. Like a nursing home. I might have been the youngest person staying at this hostal and that was a strange feeling.
But, after all the climbing today I was ready for an early night. Funny thing is, when I'm getting ready to sleep everyone else is getting ready to go out for the evening. I guess you could ask, who is the oldster?