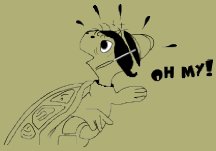 I slept really well at the Ibis but I was feeling a bit guilty for spending so much. This was an extravagance. I got packed up and headed out around 9. The hotel check-out was a slow process and then I had to wait for someone to help get Myrtle out the locked storage room.
Looking at the map I had a feeling there was going to be some climbing today. The road snaked in a squiggly line on Googlemaps making the ride look interesting. I stop at the store to pick up provisions and then the climbing began. I climbed and climbed and climbed. From 9:15 to 3:30 the road went up. There were some nice rest stops with a table where I made sandwiches and caught my breathe.
I couldn't have asked for better weather. The skies were overcast and it was cool with a few sprinkles thrown in. I am a very slow climber and my speed for most of this ride was between 3 and 4 mph. Painfully slow! At 20 miles I still couldn't see the end. At 22 miles I thought this is more climbing than Mt. Ventoux. At 25 miles I really wanted to be doing something else. At 27 miles I was screaming at the gods and at 27.5 the climbing was finally finished.
The downhill wasn't as satisfying as I had hoped. There were some good downhill stretches but also more climbing. I wanted to kiss the sign entering Florac and arrived just as the rains started. I found an inexpensive hotel (44 euro = $67) and got checked in. There was a good wifi signal but I was so tired all I could manage was a shower before collapsing into bed.
I have been in touch with a couple who live outside Mende. They have invited me to stay and this has been my destination since leaving Lacoste. I gave Corinne a call to say I was on my way and should arrive in the early afternoon. Even though there was only 27 miles to cover I could tell from the map I had another day of climbing ahead. I set out at 8:30 with a stop at the store. Sure enough, the climbing started right away. Today the elevation was higher (3400 ft) but I only had 11 miles to the summit. It had been overcast and cool for the climb but at the top the sun broke through and warmed me up. There was a hotel with a restaurant at the top and I stopped to get something to eat. The door was locked but I used an outside table to make a sandwich. After 20 minutes a woman came out and I ordered some coffee. Perfect timing! I finished eating and was able to use the bathroom to clean my utensils too. The ride was really beautiful. Since it was Saturday there was very little traffic and no trucks. I got lots of honks, flashing headlights and thumbs up. Mende is a beautiful city and I made my way through easily. Badaroux is only another 3 miles and I found Corinne waving from an upstairs room showing the way to her house. Corinne and Sebastian were very welcoming. They showed me their Catrikes with the electric assist motors and elaborate solar panel system for charging. They have done a few long trips around France using this system. I can't imagine the attention these trikes must get on the road and was eager to talk to them more about how it all worked.
Corinne showed me around the house and let me get settled in and then we took a walk in the small village with her mother who lives a few doors away. Badaroux is a very old and sweet village of 1,000 people. Later, Corinne made a terrific traditional meal of aligot with potato, cheese, garlic, cream and sausage that I really enjoyed.
In the morning we took a trip to the Millau aquaduct bridge. I have wanted to see this bridge since it opened. It is really an exquisite piece of engineering. Since it is illegal to ride a bike on the bridge I was very happy to take this trip. After they took me to a fabulous restaurant for lunch. We had a wonderful day together. On the way back we talked about how I want to ride to the coast. I will cycle the route along the Gorge du Tarn to Millau where I can ride under the bridge. It should be an very beautiful and challenging ride over the next few days.