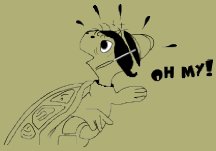 I awoke in the morning as the sun was rising realizing the sun is rising much later than I thought. Winter is coming and the days are getting shorter. At 7:30, I poked my head out of the tent and immediately saw that I was missing one of my cycling shoes. I keep my shoes inside the vestibule by the tent door mostly so they don't get wet. It's also nice to have them close when I get up. Hhhhmmm! I dug another pair of shoes out my bags and went looking for the missing shoe. Luckily, I found it quickly a few sites away. Unfortunately, an animal had found the shoe and the top strap was missing. Without the strap this shoe was useless. It took some time but I also found the strap in some nearby bushes. As I looked around there was a lot of bags strewn all over. It looked like a dog had gone through the garbage. Apparently, I wasn't the only one to wake up missing something. Word spread quickly throughout the campground about my chewed up cycling shoe and, suddenly, everyone was talking about missing shoes and the shoe stealing fox. A fox! It turns out this fox is famous for it's shoe fetish. Reception even has a picture of the fox. It sure would have been nice to get a warning about the fox when we checked-in! The German gals said an animal had nosed its way into thier vestibule in the night but they shooed it away before anything was stolen. They all said the fox was small like a puppy.
As I looked closer at my damaged shoe I thought it could be easily repaired. The fox chewed a clean break across the strap. This was the only spot that the strap touches my foot and I'm guessing the fox was sucking the salt away. After breakfast and saying goodbye to my wonderful German sitemates, I stopped at reception to ask about where I could get the shoe repaired in Remoulins. They couldn't think of anywhere locally and said I would have to wait until I got to Uzes. With all the damaged shoes from this fox I thought they really could have had more information. All I could do was start riding in my street shoes. I have always used cycling shoes for trike riding and as I pedaled off I could tell my feet would be uncomfortable for the 15 miles into Uzes. I decided to try at the tourist information center to see if anyone in town could help. They directed me to the perfect shop. It was an embroidery and knitting shop but the woman also had a sewing machine. She had a few customers waiting but offered to fix the strap in a couple of hours. Great!! I went next door to a cafe where I spent the time working on my journal and going through photos. The cafe didn't have internet but I had enough to do anyway. I also ordered a salad for lunch. It was still a bit early and I could only finish half taking the rest to-go.
At noon I went to pick up my repaired shoe. The sewing woman got it done and charged me $10. Wonderful! This repair job will last as long as I have this shoe. She couldn't speak English and I don't speak French but we communicated about my trip and the relations between France and Israel. She felt that I would be more welcome as an American than a French person. She is probably right.
It was after noon when I started out riding from Remoulins in my cycling shoes. The weather was fantastic and I quickly covered the distance into Uzes. This is another really beautiful town and I spent some time riding around looking for the tourism office. I couldn't find it and decided to ride on to Ales which would be a lot of miles for an afternoon. I passed through many small towns surrounded by vineyards. It seems like all the towns were on the top of hills. I would crawl up the hill ride through the town and then speed away into another valley. Around the town of Foissac the air was thick with the smell of grapes being processed. The hill coming into Monteils was a gut buster and I was crawling even slower. I stopped at a road side table and made a sandwich with my left over salad - delicious! As I approached Ales the skies clouded up and I worried about a storm brewing. This town is gorgeous with very interesting character. Again, I tried to find the tourism office without luck and stopped a man who looked like he spoke English.( I don't know how to explain it but I think I can tell by someone's look if they speak English.) He did speak English and directed me to an Ibis Hotel which is a little out of my price range. Since it was starting to rain and getting dark I followed his instructions. I got checked-in just as the skies let loose with pouring rain and claps of thunder.