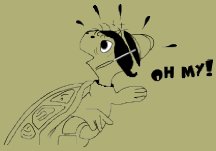 I am always very grateful when people take me in and I left my warm shower hosts with a lot of emotions. Corinne and Sebastien were really lovely and showed me a wonderful time. We had never met before but had the love of cycletouring and trikes in common. They took me sightseeing, fed me fabulous meals, let me do laundry, gave me a comfortable place to sleep and spent lots of time discussing all kinds of things. Corinne had a big job to do translating for everyone in her family. Her son and husband understand English but don't speak. Her parents were very interested in my trip and we spent a lot of time together. They do not understand English at all and I don't speak French. So poor Corinne was translating for me and for everyone else too. By the end of the weekend I think she was totally exhausted but a great sport about it.
Sebastien spent some time with me going over my route. I decided I wanted to ride through the Gorges du Tarn to Millau and under the aquaduct bridge. He thought I could cover the distance in 2 days.
After a good breakfast and a few photos, I headed back through Mende to Balseiges following the signs for St-Enime which is the first village in the Gorges du Tarn. Once I got on the D986 there was some very steep climbing with switchbacks for about 6 miles. Then the view opened up to the magnificent gorge. The ride down into the gorge was super steep. I was very happy to be doing the ride in this direction. I stopped many times to take pictures and enjoy the view. The road was winding and I had to keep my speed under control. The brakes got a good workout. St-Enime is a very old village with lots of character. I stopped at the tourism office for information about a hotel for the night. The woman spoke English and gave me a listing of all the hotels in the gorge. I asked about camping but the campgrounds were closed for the season. I picked out a hotel in La Molene and made that my destination for the day.
As I started riding I felt the unmistakable shaking sensations of bonking. How could this be? I had ridden 20 miles after a good breakfast and had been snacking on nuts over the last 10 miles. Corinne had let me raid the refrigerator and I packed a piece of ham, a chunk of bread, a banana, an apple and a handful of cherry tomatoes. I scarfed it all down hoping to feel better quickly. Once that bonking feeling comes on it can take hours to recover. I only had 8 miles to go and then I could relax in a hotel room.
The weather was perfect with bright sunshine and the road continued down along the gorge. I was thoroughly enjoying the ride even if I wasn't feeling my best. Saint Chely-du-Tarn was a charming sight across the water with bridge access. There were many outcroppings and tunnels. One tunnel entrance was so narrow there was only one lane controlled with a traffic light. As I descended the gorge walls got higher and higher.
I stopped in La Molene at about 1 pm. The hotel was closed until 2 for lunch so I went to the only open restaurant for more food. This was a restaurant in a 4 star hotel and I sat down to a table set with silver in my cycling clothes. I ordered a bowl of pea soup with a salad. This seemed like a lot of food but I suspect I was still feeling the effects of bonking. I forced myself to finish and then went across the street to see about a room at the cheaper hotel. Unfortunately, the hotel was closed for the season even though the pamphlet listed them open for another week. Nothing I could do but continue. It was still early in the afternoon and there was another town, Les Vignes, 7 miles down the road with a hotel listed as open until the middle of November. There was also a campground across the river. I would need to find a grocery open for water and food if I wanted to camp. The weather would be cooperating.
As I approached Les Vignes every business seemed to be locked up tight. There is a tourist information office but it was also closed. Uh oh! I started to panic I wouldn't find a place here for the night. I kept riding and found Le Gevaudan hotel open. What a relief! The owner offered me a room with dinner and breakfast included for $63. He also had a garage to keep Myrtle safe. Boy did it feel good to get checked-in.