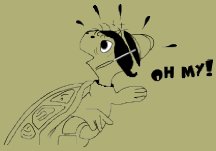 Zafra is a really sweet town with a lot of Roman and medieval history. A walk around the perimeter of the town took less than an hour. I had the tourist information office in Zafra call a hostal in Santa Olalla to make sure it was open. I rarely call ahead for a place to stay. So, to be this prepared is really unusual and made for a very relaxed day. The weather has also improved with clearer skies and warmer temperatures making cycling all the more enjoyable. Welcome to the south of Spain!
The owner of the Hostal Cervantes, where I stayed in Zafra, loved the tricycle. She called a friend over, took pictures and saw me off. It was a gorgeous day and one of the first mornings in awhile that wasn't cold. I made my way out of the town and back to the N630. The road had a gradual, mild climb for the first 20 miles. The terrain was beautiful with lots of oak trees, lamb, goats, horses and cows. There were soft rolling hills that reminded me of Kentucky or Tennessee. I pulled into Calzadilla de los Barros for a bocadillo. The sandwich was huge and I could only finish half taking the other half to go. Eating at these local bars can be very inexpensive. Usually a bocadillo with a cup of coffee is 3-4e. The last few miles of climbing was significantly steeper and it took me about 2 1/2 hours to slog my way into Monesterio. We were definitely closer to God at the top of this climb. The area and this town is very famous for it's jamon Iberico. The black pig is king in this region and the town is obviously very proud. There is so much jamon they took to calling the town Jamonesterio. Funny and it totally fit. I've got some video of the town here. There was a bit more climbing after Monesterio but then I had a very nice downhill into Santa Olalla, my destination for the day. Or, at least, that's what I had planned on.
Santa Olalla is very small and I quickly found the Hostal, walked inside and, right away, the front desk woman refused to let me stay. She responded to me so fast, it was like she was expecting me and couldn't wait to give me the bad news. I was so sure they would be expecting me, and would have a room ready, that I didn't even think about alternatives. I was completely taken aback. My Spanish is terrible under the best of circumstances, and now, I was a blubbering mess. I threw words at her like 'Telefono','Oficina de Tourismo', 'Hostal abierto', 'Que cuesta 22 euros', 'Mujer mayor de America en triciclo'. She answered my thrown out words saying, yes, she had spoken to the oficina de tourismo lady yesterday and answered all her questions. But, the call was only asking for information and since I didn't make a reservation, I can't stay. I muttered my list of words again and she firmly repeated that I couldn't stay. I'm not sure anyone was staying at the Hostal but it certainly wasn't full. Here I am, a paying customer and she wouldn't take my money. She had me over a barrel and could have charged me more but no, she sent me out very harshly saying there was no other place for me to stay in Santa Olalla either. Wow! I walked out of there in tears wondering what had just happened. The main reason I asked the Tourism Office to call is, on the internet, there didn't appear to be anywhere else to stay in this town or anywhere even close to this town. Hhhhmmm....what to do?
Well, I started riding around asking people. Of course, no one knew anything. I asked if there was a bomberos (fire station) in town but, no there isn't. I went to the church and spoke to a very nice lady. I suggested they let me camp in the courtyard and she thought I didn't have any money. 'Dinero, no hay problema!' I repeated a few times. She sent me to a Casa Rural on the main plaza a few blocks away. I circled the plaza a couple of times but didn't see anything about a Casa Rural. There were a group of young guys all smoking pot in the middle of the plaza next to a fountain. They loved the tricycle. I told them my story and one guy ran off to get the Casa Rural on the phone. He came back saying they would only let me stay for 2 nights and it would cost 80e/night. 80e for this town? Wow, that's a lot of money. What does this room come with - breakfast and dinner? He didn't know but thought it was a lot of money too and I had the feeling the Casa Rural wasn't even open. One guy said I could stay at his house but he lives with his mother so... Another guy offered me a toke from his joint. I refused and politely thanked him. Another guy had run off and came back saying I could leave my tricycle in this town and he could give me a ride to stay in another town and then pick me up again in the morning. What? It took awhile for me to understand that there is an Albergue in another town 7 kms away. 7 kms isn't so far. Is it really hilly to get there? No. OK, tell me the way and I will ride there. He pointed to the road and off I went thanking them all profusely for their help.
It was early evening by this time. But the kid was right, the road was flat and even downhill into El Real de la Jara. By the time I arrived it was dark. Even though I have very good front and rear lights with an el wire going up the flag pole, I really don't like cycling at night. I had to ask a few people for directions but I found the Albergue and it was a huge relief to find a place to stay for the night. The man, Antonio, who runs the Albergue was very nice too charging me 10e. I was the only person staying there. The Albergue had great wifi, super hot shower but no heat. No problem, I have a warm sleeping bag and expected to sleep just fine.