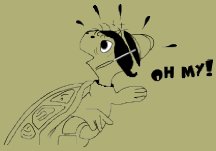 Eduard and Rosa's hotel is very nice and quiet. I have slept like a log every night. This is rare for me and so welcome. Each morning I head down to the hotel restaurant and indulge in the buffet.
On Sunday I met up with another traveling cyclist, Omar Ruiz-Diaz. We have been in contact by Facebook and he met me at the hotel. Omar has been 'on the road' for 22 years. He has a very unusual set-up where he travels on a regular bike with 2 trailers. I've heard about him for a long time and was happy to meet. He gave me a demonstration of his biking technique riding in circles. The hotel is on a fairly steep hill and he walked up with his heavy bike. While we were talking he suggested we tour through Spain together. He has been following my progress and thought our riding styles and speed might be a good fit. I'm always up for company and he seemed like a nice enough fellow. I figured we can always try riding together. The worse that can happen is it doesn't work out. I really wanted to take a rest day and we made plans to ride around Barcelona on Monday.
I had a list of things to take care of in Barcelona. A pedicure, an organic food store and I wanted to see if I could find tubes for my 20" tires. I got a very nice pedicure for the same price I pay at home. I also found an organics shop that had multigrain oatmeal. This is a staple for me on my trike rides. Then I only needed to find spare tubes. I only have 1 spare tube and figured Barcelona might be a good place to find more. I found a bike shop that carried Schwalbe tubes. They are more expensive but, for me, really worth the extra price. I have 20 x 1.35" tires on the front and a 20 x 1.75" in the rear. I thought the smaller size tube might be hard to find but this shop had the tubes I needed. Now I have a spare for each wheel. I rarely get flats but that doesn't mean I shouldn't be prepared. My first day in France I had a valve come away from the tube. That kind of flat can't be patched.
I really enjoyed walking around the city and I found everything I needed easily. Barcelona is very beautiful and it was also an absolutely gorgeous day. Everyone was saying how the weather was unusually warm and sunny contributing it to global warming.
Monday morning I rode down to Plaza Catalonia to meet Omar. He was set up with his bike. He lives from his bike and has a lot of things he sells which is why he has 2 trailers. There are large color postcards of him riding in Portugal with a lovely spiritual poem on the back. He has keychains made from bike chains and t-shirts with his logo. He also has a very cool book full of recommendations and lots of newspaper articles from all over the world. People approach him because of his strange set-up and then he tells them about his lifestyle signing a postcard for them. He gives them a keychain and asks for donations. People give him a lot of money. I was with him for 2 hours and watched him collect 40 euros. It's possible that he actually made more money because I was there with the trike.
He took me on a tour of Barcelona going to a big food market, the Cathedral and out to the FC Barcelona stadium passing the bullfighting ring - Arenas de Barcelona. I also saw the fleet of e-assisted pedi trikes called Trixi. Super design! We made plans to start riding out of Barcelona on Wednesday. He had ridden this particular route before and knew the way.
Eduard and his wife Rosa have been exceptionally generous hosts and showed me a wonderful time at their hotel. They took me to a fabulous restaurant high up on a mountain that had a panoramic view of the city. They are really a class act! Eduard also asked to ride with me and Omar out of town. I will have an escort out of the hotel and out of Barcelona - fantastic! The only unfortunate thing that happened is I dropped my Google Nexus tablet and broke the glass. The touch feature isn't working anymore. I can't even turn it off. Eduard said we could stop at an electronics store on the way out of town to get it replaced. That would be great. The thing I love about the tablet is the GPS feature and larger screen for map viewing. I have a Garmin but the screen is so small I can't get a good feel for where I am.
With every thing set to start out again, I got packed up for another adventure. This time with company!