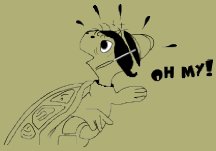 Chickens were hunting around the tents in the morning. The rooster made it very clear, bright and early, who was boss. These chickens weren't afraid of anyone. Chickens actually came inside Martin's vestibule pecking around for scraps. Throwing rocks seem to have the best result of getting them to leave us in peace for a few minutes. What a funny thing to have so many chickens in a campsite.
We had a leisurely morning sipping coffee waiting for the sun to warm up the tents and dry out the condensation. After we packed up we spent some time at the main building using the wifi. It was probably after 10 when we started pedaling retracing our route to the main road. Our plan was to ride to Kenitra and there are 2 road options. The most direct route goes along the coast and next to the AutoVia. Martin thought it looked very boring. There aren't any towns listed and he didn't think there would be any services so we took the longer route on the National road. It was going to be a big mile day for me but the sun was shining and I knew it would be a good road. We stopped a few times for tea and fruit. We should be going through a big town and according to Googlemaps it was about 20 miles in and a few miles after we get to the national road. We kept riding and the town wasn't showing up. Martin decided to follow a turn off when a sign pointed to Kenitra. After 4 kms Martin pulled over where there was a cement irrigation cover we could use as a table and take a food break.
Over lunch, I learned that Martin has been bike touring for more than 30 years. This is his 4th time to Morocco. He has been everywhere on his bike from Iceland, Mongolia, Namibia and Patagonia. Like me, he travels a few months every year. Since he now retired from teaching, this will be his longest trip. It took 2 months for him to ride here from his home in Holland. He will spend 3 months in Morocco before riding back again for a total of 7 months on the road.
Looking ahead, Martin wasn't sure taking this road was a good idea. Some shepherds were guiding sheep along the grass and he asked them for advice. They said this side road isn't in good shape and that it would be quicker to go back to the National road. So after a bite to eat and letting the sheep pass we retraced our path back to the National Road.
We had been plodding along for awhile passing all manner of donkey pulled carts when a friendly man in a truck stopped Martin. His name is Hakeem and he had lived in Texas for many years. He stopped to say hello and practice his English. It was funny to hear this Moroccan Muslim man speak English with a Texas drawl. I wondered what life in Houston must have been like for him. He said he returned to Morocco when his dad became ill. Hakeem was very nice and spent some time looking at the map with Martin. He gave me his phone number and invited both of us to stay at his home in Casablanca. Then he left us with a few oranges.
We rode into Souk El Arbaa Du Gharb at about 3 pm having put in 30 miles for the day and decided to stay here for the night. We were both kind of surprised we hadn't pedaled farther. It was as if the map had played a trick on us. Looking around, there were a few hotel choices and none of them very good. Since Martin speaks some French I figured it would be easier for him to check out the room and bargain for the rate while I stayed with the bikes.We ended up at the biggest hotel sharing a room with the shower down the hall for $17. The bikes were locked under the stairs. I don't really mind staying in a very basic room when I sharing. It always feels like part of the adventure. I'm more likely to splurge for a nicer room when I'm by myself. But, sometimes, like tonight, the basic room is all that is available. We had to ask for towels and toilet paper. It took so long to get the toilet paper I think they went to the store to buy some for us. It's not the first time I've had to ask and, I guess, Moroccans don't use toilet paper?
After getting settled, we walked around the medina. Souk El Arbaa Du Gharb is a really grimy, dusty town at the junction of 2 National roads. I don't think they get many tourists. Martin's shoes are falling apart and he wanted to see about finding a replacement. After camping yesterday, I realized I don't have much alcohol for my stove. We went into many shops coming up empty. When I was in Asilah, I met a German couple who had been traveling by motorcycle. They said alcohol isn't available in Morocco and selling any kind of alcohol is illegal. The alcohol I have is from a pharmacy in Spain. I thought it would be weird to not find rubbing alcohol. Martin and I went into a pharmacy to ask. The pharmacist spoke some English and showed me a bottle of 60% alcohol. I explained that I wanted it for cooking fuel and asked if there was any with a higher percentage of alcohol.The pharmacist gave me a small amount in an unmarked glass vial saying 'welcome to Morocco' and then wouldn't take any money. As nice a gesture as that was, it was only enough alcohol for a couple of days and I'm still wondering if selling any kind of alcohol is illegal. While we were walking we ran into Hakeem again. He was picking up supplies and we followed his recommendation for dinner.
This place was a large butcher shop and a very busy restaurant. There were huge pieces of meat hanging out in front with blood dripping on the tile floor. 6 ft slabs of beef hanging from hooks and whole lambs with a little tuft of fur left on the end of the tail. We agreed to their suggestion of lamb brochette splitting a plate. This was a huge amount of food. I think there were 10 sticks loaded with grilled meat. Delicious and very cheap. We paid $6 for dinner, coffee and tea.
My throat has been very sore from breathing in diesel exhaust and it feels like I am getting a cold. I've had problems with car exhaust before and I'm going to look for a mask like I used in SE Asia. Like SE Asia and China, there aren't emission controls and the gas isn't very well refined. The exhaust also makes me feel nauseous while riding. Unlike Asia, I haven't seen anyone use a mask so we'll see if I can find one.