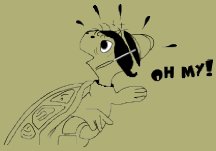 I left Tuxedo Junction this morning with a lot of sadness and excitement. Harry and Mitzi had made me feel welcome and comfortable for almost 2 weeks. I've known everyone for so many years they really have become family. It had been a very busy time with the pre-wedding, wedding and post-wedding events. I had a great time and it all went by too fast. We had, yet another, wonderful meal last night with Annie and, super-hero of the wedding, Sebastian (pictured below taking Myrtle for a spin). I don't think I've ever eaten so well for a 2 week stretch. Annie left last night for the airport and so I was the last of the guests and family to leave. It also felt a bit like last call. My plans to leave Lacoste on Wed got moved up everyday for one reason or another. Wed felt too soon, Thursday there was a crisis with a guest and then there was a going away dinner planned for Friday.
Yesterday, Annie helped me get a sim card for my phone and a wifi hotspot. The phone works well but I'm not sure about the hotspot. It could be the service is super-slow or the hotspot isn't working. I'll give it a few more days before heading to a store for guidance.
I have been really relaxed about this tour. Yesterday, I finally sat down with Mitzi to map out the first 3 days. She was able to give me some history of the area and reasons why I should go to certain towns. You could probably spend 2 weeks in every town and only scratch the surface of it's history. There is so much history I don't think I can make that my focus.With my earlier tours I've always had a pretty good idea of my route. This tour feels more like I'll end up where ever the wind takes me. I'll be spending a month in France simply meandering. From looking at the map I don't think there is any place in France that isn't worth visiting.
I got going after 9 am with the last goodbyes and few more pictures taken. It was overcast but warm and I rode all day in my jersey and shorts. I took a right out the driveway of Tuxedo Junction and started my turtle tour with a wonderful 3 mile downhill making my way to Cavallion. There are vineyards everywhere that are bursting with grapes. Harvest season is just starting. All day I rode from one adorable small town to the next. I could have spent a day in each one. I found one bike path. The thing about bike paths is there isn't usually a way to know where it goes unless someone tells you. I wanted to find St. Remy and after asking a couple of cyclists I was satisfied this path went where I wanted to go. The path wasn't very long and had a barricade at the end. Another cyclists met me coming the other direction and we couldn't understand what was going on. The other cyclist lifted his bike over and I found a way off the path into the street.
There is a lot of signage on the roads in France. Some of it is helpful and some of it isn't. I noticed many signs for camping with an arrow pointing down a road but the sign never said how far the camping was. The day was so warm I was thinking about camping and decided to keep my eyes open at the end of the day. All the towns I went through today also had signs for a tourism office. I rode around and around and could never find the office. There were also signs for W.C.'s. Unfortunately, most were locked. The only one I could enter turned out to be a flushing squat toilet which reminded me of Asia.
From Lacoste I rode through Cavallion into St. Remy which is gorgeous. The road into town is lined with plane trees for miles. The town itself is a bit hilly with twisting roads that give it an interesting character. The roads were packed with tourists and there was also a carnaval set up on a few blocks. There were a number of carnaval food venders as well but I stopped at a market for fruit. The town was so busy it was uncomfortable to ride in. There is an archeological site I wanted to see called Glanum. Again, I followed signs but never found it. I was kind of overwhelmed by the number of people everywhere and pedaled on. I hope to explore this town under better circumstances. Maybe I'll do a circle through again in a couple of weeks. From St. Remy I stopped in Mas-Blanc-Des-Appelles which was only a few buildings. I wanted some bread and found a vender outside with baskets full of loaves and baguettes. Less than a euro got me a fabulous fresh baguette and she threw in an extra one. I tore off a good hunk and then bungies the rest to my rack bag. Now I looked French. From there I rode through Terascon and Beaucaire on either side of the Rhone river. Both were very historic with ancient castles and churches. Terascon has a large castle in the middle and a statue of a mythical monster from where it gets its name. I thought the monster looked like a very fierce turtle. Beaucaire has the river running through downtown with lots of boats docked. The overcast skies started to look more like rain and I gave up on the idea of camping. I found a simple hotel a couple of miles before Remoulin for 40 Euro. The restaurant is completely booked for the night and the Paella smells amazing. Maybe there will be a cancellation although I do have enough food for the night. They are also having a Tai Chi and martial arts demonstration in the garden before dinner. Should be an interesting evening.....