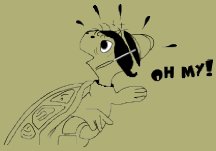 Yet another wonderful summer in Portland. I stayed in the same house as I have for the last few years. This house-sitting arrangement continues to work out fabulously. It's so nice to have a comfortable house to come back to each summer. I can relax, recover and prepare for the next tour while keeping in touch with family and freinds. I continue to be super grateful for this house and my terrific summers.
This year I arrived earlier than some years because I sustained a terribly injury during my tour. It took a very long time to figure out that I was pedaling with the boom too short. I had added a 2 inch foam pad to my hard shell seat just before starting this tour. It never occurred to me that this would put me 2 inches closer to the pedals. The trouble started with tenderness in my upper thighs. It felt like my thighs were inflammed but didn't hurt. While I was riding in the north of Spain on the Camino de Santiago the weather turned bitterly cold. I was wearing every layer of clothing I had cycling in the snow. With these layers of clothing I was putting myself even closer to the pedals and the inflammation now included intense hip pain. By the time I got to Santiago I had trouble walking. Finally, I turned to Facebook and members of a velomobile group quickly explained what my problem was. Even though I now knew what the problem was, the recovery was excruciatingly slow. All through Portugal I stopped my ride for rest and physical therapy sessions. I kept on trying to ride but in Turkey the roads were so rough, the injury was aggravated and I decided to stop cycling for the rest of the tour. Taking Myrtle on buses in Turkey was easy but I wanted to be riding. I ended my tour early to come home and work with professionals I knew could help me recover.
And help they did. First, I worked with a rolfing professional in Los Angeles who has helped me in the past. Rolfing is a medical massage technique, developed by Ida Rolf, that releases binded myofascia layers stuck between the skin and muscles. This isn't an easy fluff and buff massage. Rolfing can be uncomfortable but I've had impressive results from the sessions. Then, in Portland, I worked with my buddy Marco at Cornerstone Therapeutics. He does another type of medical myofacial deep tissue bodywork. Marco is a big, strong, teddy bear of a guy who is an intuitive massage master. He also made suggestions for a simple routine to stengthen my core which will help keep my back stronger.Within a few weeks my body was feeling better than it had in years.
I also went to the Oregon College of Oriental Medicine for acupuncture. Sessions are only $25. I worked with Houston Oldson whose needle placement is exceptional. He suggested I give up nightshade vegetables to relieve low back stiffness. Vegetables? Really? I gave up tomatoes, potatoes, all peppers hot and sweet, paprika, eggplant and artichokes. And it worked. Low back stiffness that I have been suffering with for many years disappeared. I was also able to reduce my medication for hypothyroidism, twice. Apparently, the nightshade vegetables were causing inflammation in more than my low back. This is truly incredible and I'm going to be starting my next tour in the best shape ever.
I also made so many upgrades to Myrtle I'm practically riding a new trike. My rear wheel had a SRAM Dual Drive internally geared 3-speed hub. With this hub, I could spin my way uphills with someting like 7 gear inches. I've always said I could climb a tree with this hub and have never found a hill I couldn't handle. But, this hub is heavy and leaves me mechanically vulnerable on tour. I switched out my bottom bracket and chainrings to a 24-42-52 to see if I could replace the SRAM DD with a standard hub. My test was climbing a long 16% hill in the west hills. This test was especially sucessful when I didn't have to use my lowest gears. I had a new rear wheel built with a very quiet Shimano hub and was pleasantly surprised at how much smoother and easier the trike rolled. I also replaced the brake pads, levers and bar-end shifters with all the cables. There's also a new chain and cassette. I used Schwalbe Tryker tires all summer which I really like but I'll be switching back to the tried and true Marathon Plus for touring.
This was a lot of changes and the trike was riding great. The biggest change I made was using shorter cranks and adding a neck rest. I went from 165mm to 155mm cranks. My last tour was mostly in Europe and the area of Europe I was riding is mountainous and very windy. Climbing mountains into a headwind without a neckrest is very tiring. My neck was so sore I had to use a hand on my helmet to take some of the stress off. Once I got home and added a neckrest, I was able to put my seat back into a more reclined position. This and shorter cranks opened up the space between the top of my thighs and stomach. I never really thought about it but my thighs were lightly hitting my stomach with every pedal stroke. After 10 years of riding trikes, I now had a free and full pedal stroke. Crazy, I know. Suddenly, I also was riding faster. Up until this point, my average speed was always around 8.7 mph. It didn't matter if I was riding with full touring gear or not. It also didn't matter that I lost 90 pounds of weight off my body. My speed was always 8.7 mph. Now I'm easily riding between 12 and 15 mph. The best thing about this speed increase is I can ride with other people and not feel like I'm holding them back. It's been a very busy and interesting summer.
At the beginning of summer I was in so much pain I thought I would need to take a year off of touring. I was actually thinking of doing a walking tour and researched the possibility of going from Rome to Jerusalem on pilgrimage routes. I still think this would be an amazing trip but I recovered from my injury much quicker than expected. I spent the first 2 months walking every where getting up to 15 miles a day. Walking is hard work. Much harder than triking and I was relieved to start pedaling again.
I did all my usual summer cycling trips and lots more. My body was feeling so good nothing was stopping me. I had a great time at my 2nd Tater TOT (Trikes Optional Tour) in Kellogg, Idaho. This yearly event on the Trail of the Coeur d'Alene is attended by probably 100 trikers who take over a good sized hotel. Every day we all go riding and each evening trikes line up outside the hotel as everyone sits in the driveway telling tall tales about the day's rides drinking beer. I had such a good time I've already reserved a room for next year.
I also rode to the Recumbent Retreat, again. This year I went in luxury being sagged and even getting a ride over the big hill out of Portland to Cedar Mill. This alone saved me 600 ft of climbing! I rode with my friend Kirke to Big Eddy County Park where his wife Kathi met us with our bags and a dinner feast. The next day she met us at the Elk Reserve with a great lunch. This was my 10th year riding to the retreat and I never tire of it. The Retreat was fantastic. We had great weather and the weekend was very relaxed. Ft Stevens has fantastic trails and we bombed through all of them every day. Each year more and more people are riding trikes. 9 years ago was the first time I rode a trike to the coast and there were probably 5 other trikers. This year I bet there were over 60. Trike riding is so relaxed the retreat is also becoming more relaxed. I loved it.
At some point I needed to start thinking of where in the world I would tour this coming winter. Last year I struggled over whether I should go to Turkey or Morocco to escape Schengen visa requirements. This year I'll go to Morocco. It's much less expensive to fly to Spain than directly to Morocco and I'll start my trip in Madrid. From there I'll ride to Salamanca to pick up the Camino de Santiago Via de la Plata to Seville. I'll probably ride around the south of Spain for a while before taking a ferry across to Morocco. I'll get a 90-day visa on arrival which will allow me to take my time. I'm thinking of doing a loop from Tangiers through the Atlas mountains to Marrakesh and riding the coast from Agadir north back to Tangiers. Then I'll probably ride back to Spain and take the coast route to Barcelona when I'll catch a ferry to Italy. After riding around Italy I'll make my way to Greece until I return to Portland.
Through Facebook and other trikers, I have already made connections in Spain and Morocco. I have a place to stay in Madrid with a cyclists named Lola who is even picking me up from the airport! How great is that?!? Welcome to Madrid and Long live the Lawn Chair Nation!!!
Another really fun thing happened this summer when the Wall Street Journal did an article about baby-boomers turning to trikes. I was interviewed with other trikers. The article was on the front page of the paper! Here is a link to the online version.
There's still a little more sorting of stuff to do before I leave. There's the stuff I'll keep in Portland, stuff I'll bring and stuff that needs to be dropped at Goodwill for donation. One week to go and I'm on a plane to Spain, woohoo!!