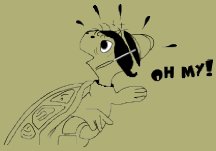 Why not use electric assist?
I did a solo, unsupported 6,000 mile E-tour around the US in 2010. I have been asked a ton of questions about using electric-assist and decided to do a summary recapping my impressions of using a motor for touring.
Did it work as I had hoped? How hard is it to find outlets? Was it complicated to fix problems with the motor system on the road? Did the batteries let me go the distance between charging opportunities? How much does it weigh? Was it worth the initial investment? How did I feel using e-assist for touring? Is e-assist a good idea for touring?
The initial idea of using e-assist was two-fold. The idea took hold during a tour in the south of Thailand where the heat was unrelenting and my speed on the trike, especially uphill, was painfully slow. The only time I got any relief from the heat was going downhill. Every time I climbed a hill I dreamed of having a motor. The other reason e-assist was appealing had to do with my weight loss or lack thereof. I had been touring for many years and had only lost minimal weight. When I started touring I expected weight loss to be effortless. Goodness, if I wasn't going to lose weight why should I work so hard? I really enjoy touring and thought I could make it a little easier with e-assist.
I started researching e-assist on the internet while I was in Thailand. Once back in Portland I ordered a 700 watt mid-drive system from Ecospeed and had it installed. I also ordered a Cargo Monster from Terra Cycle. This is an Xtracycle adapter for trikes turning Myrtle into an electric cargo trike.
Surprisingly, I wasn't able to find much information about anyone using e-assist for solo touring. Most of the tour journals that used e-assist were also supported. This allowed the tourers to carry extra batteries and use the SAG vehicle for charging. This type of touring didn't interest me but the guys at Ecospeed felt confident I could tour solo using their system. This mid-drive motor system would assist me while pedaling and it was important that I always pedal. I didn't know if using e-assist for solo, unsupported touring was a good idea but decided to give it a try.
Using a motor meant carrying much more gear weight than I had on any of my other tours. I wasn't exactly traveling light on my earlier tours either. But now I had the motor system, Cargo Monster, Catrike triangle bags for the batteries and lots of extra parts. The motor, controller, 2 batteries, throttle, Cycle Analyst, chargers and wires weigh about 45 lbs. The Cargo Monster is around 15 lbs and the extra parts I was carrying were probably another 10 lbs. Luckily, with the Cargo Monster I had more than enough room for all of it. The trike weighed 105 lbs with the Cargo Monster, motor, batteries and full water bladder. With camping gear, clothes, electronics and spare parts the weight of my trike ballooned to 160 lbs. This was a rig.
Before the tour I was able to get 60 miles out of a charge riding around town. Portland is pretty flat and once I started out on the Pacific coast route my miles per charge dropped to about 45 - with conservative use. If I knew there was a place to charge up along the way I often used more juice than the minimum. Finding outlets was much easier than I imagined. Essentially, if there was any kind of business along the road I could find an outlet. Many businesses even have outlets on the outside of the building. Often I would charge up while having lunch. At campgrounds without services, motorhomes always let me plug in.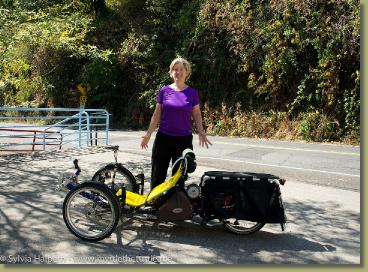 From the start of my trip I noticed that e-touring was less tiring. The motor allowed me to get to my destination earlier and not be so exhausted. This made getting all my daily chores done at the end of the day much easier as well. Even though my day ended earlier, my average speed was unimpressive. Without the motor my speed was around 8.7 mph. With the motor my speed increased to 10.5. Most people can ride at 10.5 mph without a motor.* For me, at first, this was a welcome improvement and all I wanted from the motor. Using the motor to climb 2 mph faster made a significant difference in my total ride time since climbing is where I lose the most time. It was really nice to climb at 5-6 mph instead of 2-3 especially on the challenging Pacific Coast route. Unfortunately, the faster I climbed the more juice I used and the sooner I would need to charge up. This meant I had to be disciplined with the throttle. I used faster 5 amp chargers and carried one for each battery. Recharging both batteries only took 1.5 hours if they were totally empty.
Ecospeed makes a high quality product. Even though the motor worked flawlessly throughout my 6,000 mile ride, I did have problems with other components. Halfway down the Pacific coast the cycle analyst stopped working which meant I didn't have a gauge for how much battery I was using. Around the same time one of my batteries also died. This forced me to charge up more often. Grin Technologies in Canada mailed me a new cycle analyst and Ecospeed fixed the battery. Never was I without use of the motor. Later while traveling on the Southern Tier my throttle went out. Luckily, this happened in Austin where there is an electric bike shop. These throttles are so cheaply made that I started carrying a spare. My tour ended when my internally geared 3-speed SRAM hub failed. I think this was caused, in part, by the substantial extra weight and motor torque.
There were many instances on the western leg of the Southern Tier where distances between towns were beyond the range of my batteries. I made so many route changes that I really didn't follow the Southern Tier route. I was forced to do much of my riding on Interstate-10 through Arizona, New Mexico and Texas. This isn't very enjoyable and it bothered me that I had to accommodate the battery capacity instead of going where I wanted. I was constantly thinking about how much battery I had left and calculating how far I could get. This was an obsession that became annoying. I found that I never got comfortable touring with the motor. It simply didn't feel right to me touring with a motor - especially solo. It's possible I would have felt better about it if I was touring with someone who was also using e-assist. As it was, I was carting around 70 extra lbs just to go 2 mph faster.
I'm very pleased that I did this tour with e-assist but, in the end, I decided I didn't enjoy touring as much using the motor. I felt that e-assist took away some of the freedom I love about touring. There was so much more to keep track of that touring became uncomfortably complicated. The biggest issue being I couldn't go anywhere I pleased.
The other interesting thing that happened is I started losing weight. I made some diet changes, joined Weight Watchers and by the end of my tour I had lost 25 lbs. One of the main reasons for wanting a motor was that I wasn't losing any weight. It seemed that it took the motor for me to start losing. Crazy and amazing.
Since this tour I have purchased another trike for touring. I'll be keeping moto-Myrtle but I probably won't be using it for solo touring. I love having the option of using e-assist for around town riding. With the Cargo Monster I can haul a ton of stuff and this has allowed me to go car-free. I can also use moto-Myrtle if I'm going to ride with friends that are faster. It's fun having 2 trikes to choose from.
To date, I've lost 90 lbs off my body, attained my goal weight and become a life-time member of Weight Watchers. It feels good to be more nimble again with a lighter body and trike. My average touring speed has also improved and actually exceeds what I was doing with the motor.
* It should be noted that the Ecospeed motor is powerful and fast. On the flats in Portland I've been able to ride at more than 30 mph. Unfortunately, I won't get 60 miles per charge at that speed.